Undercarriage parts for Orenstein & Koppel machines

Orenstein & Koppel (abbreviated to O&K) was a German manufacturer of earth-moving machines and railway equipment. The company was founded by Benno Orenstein and Arthur Koppel in April 1876. In 1998, New Holland took over the company.
The Orenstein & Koppel company no longer exists, so it is difficult to find appropriate spare parts. Luckily, you do not need to worry about undercarriage components because VemaTrack has a very complete range of products.
VemaTrack provides you with the right undercarriage parts fast and worldwide, wherever your machine is located. If you are looking for aftermarket products, such as sprockets, track shoes or rubber tracks for your Orenstein & Koppel machine, then VemaTrack is the right address. VemaTrack is at home on any terrain, and always delivers the quality you demand.
Are you looking for competitively priced undercarriage parts for your O&K? Use your machine's OEM number or type number to make a search in the search engine. Easily request a quote at your dealer.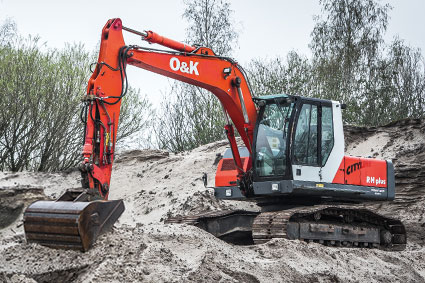 Why VemaTrack aftermarket undercarriage components?
Fast delivery
Largest Supply
Always competitive prices
All brands & types
Reliable
I am looking for components for model: