Undercarriage parts for Volvo machines

Volvo was founded in Sweden around 1832. Volvo is a Swedish manufacturer of excavators, wheel loaders, articulated haulers and skid-steer loaders.
Volvo invented the autonomous dumper truck for rough terrain and the shovel with cab.
Because Volvo has now been operating for 180 years in the civil engineering field, the organisation has plenty of expertise in innovation. Volvo engineers look 30 years ahead in order to be able to use the latest technique for their construction equipment. In its years of operation, Volvo has taken over other brands, such as Pel-Job, Åkerman and Samsung.
Even a Volvo excavator or wheel loader can become idle because undercarriage parts break down. If this happens, then VemaTrack is your partner. We offer a fast delivery of our undercarriage parts, such as rubber tracks and tension devices, anywhere in the world. We guarantee quality and delivery time. At VemaTrack, agreed is agreed.
Robust, sound and wear-resistant aftermarket products: VemaTrack delivers them!
Are you looking for robust, sound and wear-resistant undercarriage parts for Volvo at a competitive price? Use your Volvo machine's OEM number or type number to make a search in the search engine.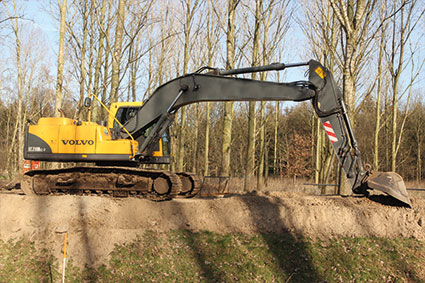 Why VemaTrack aftermarket undercarriage components?
Fast delivery
Largest Supply
Always competitive prices
All brands & types
Reliable
I am looking for components for model: