Undercarriage parts for Takeuchi machines
The Japanese brand Takeuchi was founded in 1963 as a real pioneer. In 1971, Takeuchi introduced the first compact excavator. Today, Takeuchi is known as a worldwide innovative player. Takeuchi supplies mini and medium-sized excavators, hydraulic excavators and caterpillar loaders, in the 1 to 15 ton range.
Takeuchi undercarriages of virtually all Takeuchi types are delivered on rubber tracks ex factory. For the larger medium-sized excavators, steel undercarriage parts are also used. Because Takeuchi has specialised in the production of compact equipment, we can safely say that Takeuchi is the absolute number one in quality mini excavators and medium-sized excavators.
As they put it themselves: 'making mini and medium-sized excavators is not something we do on the side, it is what we are good at'.
Even Takeuchi's undercarriage parts can break down. As a consequence, your machine will become idle. We aim to deliver your spare parts as quickly as possible. We can even deliver undercarriage parts for the newest Takeuchi mini excavators at an excellent price-performance ratio.
Are you looking for undercarriage components (such as rubber tracks, track guides or track plates) for your Takeuchi? Use your Takeuchi's OEM number or type number to ask for a quote.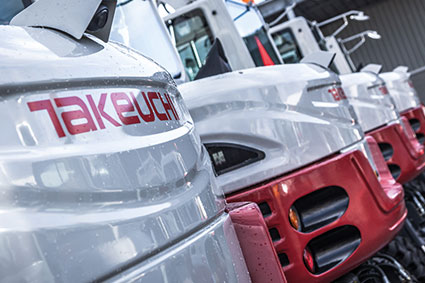 Why VemaTrack undercarriage parts?
Always competitive prices
All brands & types
Reliable
Fast delivery
Largest Supply
I am looking for components for this model: