Undercarriage parts for Doosan machines

Doosan is a South Korean manufacturer, which was founded in 1896. However, at that time they did not yet produce excavators, but cosmetics and later on, beer! In 1960, Doosan also turned its attention to the building and construction sector.
With the takeover of various companies and daewoo-doosan in 2007, Doosan became the sixth largest supplier of construction equipment in the world. The company focuses mainly on infrastructure supporting companies. For these, Doosan produces excavators, wheel loaders and articulated dump trucks. Doosan is an important global company for general construction equipment.
In July 2007, Doosan took over the daewoo-doosan company. In doing so, the company expanded with new products, including small loaders, mini excavators and telescopic handlers up to aid programme equipment, a portable power supply and attachments.
When your Doosan machine is idle, it costs money, so you will want to have new undercarriage parts delivered soon. If you choose VemaTrack, you will get guaranteed quality parts quickly. We always keep a stock of aftermarket undercarriage parts such as sprockets, tracks and tension devices for your Doosan excavator in one of our warehouses worldwide. We also have spare parts for your newest Doosan! Robust, sound and wear-resistant, VemaTrack delivers!
Are you looking for competitively priced components for your Doosan excavator? Use your Doosan's OEM number or type number to make a search in the search engine.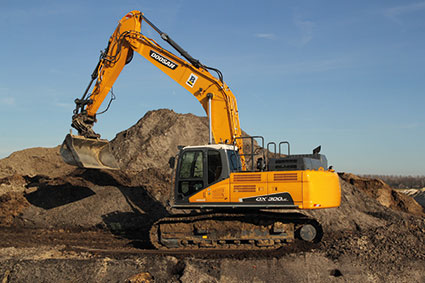 Why VemaTrack aftermarket undercarriage components?
Fast delivery
Largest Supply
Always competitive prices
All brands & types
Reliable
I am looking for components for model: