Undercarriage parts for Liebherr excavators, bulldozers and more
When hearing the word' Liebherr', some people will think of refrigerators and freezers. However, the German Hans Liebherr invented the tower crane in 1949. His company helped to rebuild Germany after the war and at the same time, the company developed into the tower crane manufacturer.
At the end of 1950, it was difficult to obtain cogwheels. In order to solve this problem, Liebherr started his own cogwheel production line. And when a couple of years later, he hired an excavator and was dissatisfied with it, he developed his own improved, lighter version.
Liebherr always continued to see opportunities and markets, and he started producing refrigerators. Five years later, he started making parts for the aviation industry. Nowadays, Liebherr is a world specialist in the development and production of cranes, excavators, shovels and tipper trucks.
Is your Liebherr idle due to a defective undercarriage parts? Then short delivery times are essential for you. VemaTrack delivers quickly, anywhere in the world. We keep all the different undercarriage parts for your Liebherr excavator, bulldozer or wheel loader in stock. With VemaTrack's robust and wear-resistant aftermarket products you will always get the job done!
Are you looking for competitively priced undercarriage parts for your Liebherr, such as tension devices, sprockets, tracks or idlers? Use your Liebherr's OEM number or type number to request a quotation on this page.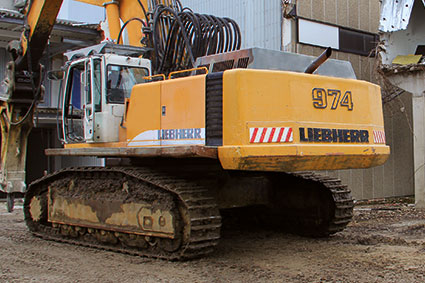 Why VemaTrack replaceable undercarriage parts for your Liebherr?
Fast delivery
Largest Supply
Always competitive prices
All brands & types
Reliable
I am looking for components for model: