Undercarriage parts for Hitachi machines

Hitachi was founded in 1910 when Namihei Odeira from Japan opened a shop for electronic components for a company in the copper mining industry. This sole proprietorship was the predecessor of the now globally operating Hitachi Group. This company is one of the world's biggest companies, whereby the production of construction equipment only forms a small part.
There are factories in Amsterdam and Oosterhout which produce earth-moving machines, such as excavators, wheel loaders and dump trucks. Hitachi is the only manufacturer of earth-moving machines that produces in the Netherlands.
Does your Hitachi machine have broken undercarriage parts? Then order the right alternative components now from VemaTrack. Thanks to VemaTrack's worldwide dealer network, the replaceable undercarriage parts for your Hitachi machine can be delivered all over the world. We also keep a stock of all undercarriage parts, such as sprockets, idlers and tracks for your Hitachi wheel loader or excavator, enabling us to offer you a guaranteed delivery time. VemaTrack delivers!
Are you looking for competitively priced undercarriage parts for your Hitachi? Use your Hitachi's OEM number or type number to easily order a quotation on this page.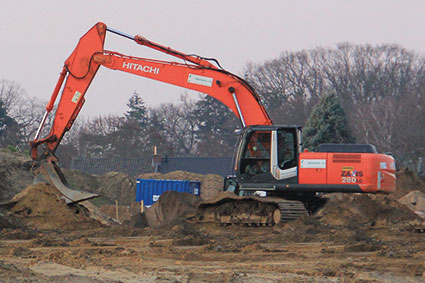 Why VemaTrack aftermarket undercarriage components?
Fast delivery
Largest Supply
Always competitive prices
All brands & types
Reliable
I am looking for components for model: